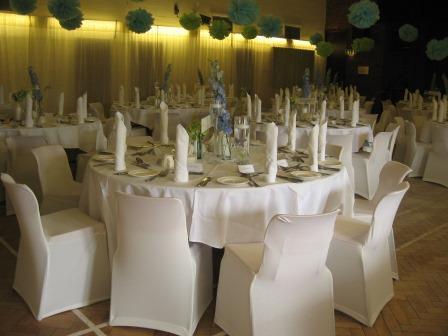 Our rates are given at the bottom of this page. To discuss your event's particular requirements, please contact our Bookings Manager.
Please also see our Weddings Page for more on our packages for that Special Day.
After a programme of extension and development, Grimsargh Village Hall now offers excellent facilities for private hire, or public events and classes:
Main Hall
This a large room - 14m x 10m and is laid out with a full-sized badminton court. It can seat up to 200, theatre style, 150 if dining/dancing using oblong tables and 120 if using our large round tables. There are ample tables and chairs.
There is a full stage (7.5 x 3.5m) with lighting, rear stairs to each wing and a changing area.
There is an additional casual seating alcove, 6m x 2.5m, which has glazed doors opening out onto the rear terrace with views over local playing fields. There is also access from there to the outside grassed seating area.
The hall has a fully licensed bar, offering a full range of beers, wines, spirits and soft drinks, all very reasonably priced. Current Bar Tariff - download. There is also the option of providing all your own drinks, or a mixture, through a corkage scheme. Full details of drinks options can be download here.
Small Hall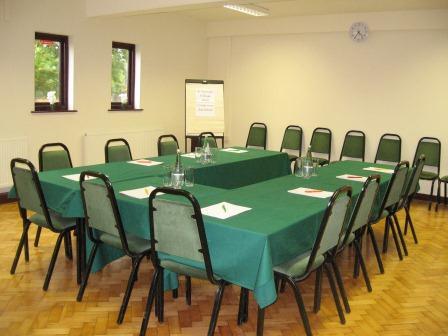 This room is ideally suited for meetings or small parties and presentations. Measuring 6m x 6.5m It can accommodate up to 50 seated theatre style, or 20 comfortably in a conference format.
The bar can also serve into this room, allowing for small licensed functions, or giving a "quiet room" away from the bustle and music of the main function area.
Each of the halls can be hired separately, or combined to give a full, exclusive suite.
Kitchen
The kitchen is modern and spacious.
It features full cooking and preparation facilities with stainless steel work-surfaces, cooker, two hobs, large warming ovens, plumbed water-boiler, microwave, double-sink, fridges and freezer.
There are servery openings to each of the Main and Small Halls.
General
Despite being in a rural village setting, the hall is close to the motorway network and is very well served by public transport. There is ample parking - for up to 60 vehicles in a private car-park.
The hall is equipped with disabled facilities and has wireless broadband internet.
Hire Charges
NEW RATES FOR ALL BOOKINGS FOR DATES FROM 1st JAN 2024
(Note - all bookings already taken and secured with deposits, will be honoured at the previously agreed charges with no surcharges)
Broadly, the rates are as follows*:
Excluding Friday and Saturday evenings:
Main Hall: £17.00 per hour
Small Hall: £8.00 per hour
Full Suite: £22 per hour
Children's Parties - special deal - £60 for 3 hours for the Full Suite, Saturday and Sunday, morning or afternoon.
Friday and Saturday evenings:
Full Suite, 5pm - Midnight:
Friday: £165 £65 discount for Grimsargh residents **
Saturday £250 £75 discount for Grimsargh residents **
Bar profit share: For every £100 over the first £600 taken on the bar, we will refund £10 off the hall hire for the event, up to the full hire charge, so your event could be free! See drinks options for conditions.
In addition to the above charges, there is a refundable deposit, usually £50 - £200, dependent upon the event, payable at the time of booking. Higher deposits may apply in special circumstances.
* Groups who qualify as Community Users will also be eligible for discounts on their hire fees.
Resident of Grimsargh - as given by the Parish boundary.
Our booking form, together with current terms and conditions can be downloaded here in Word or here in pdf.
Please contact our Bookings Manager who will be happy to chat through your requirements and how we can help to arrange your event.