Stallholders Information
If you are interested in having a stall at our Farmers' Markets, this page is for you!
PLEASE READ IT ALL BEFORE CONTACTING US.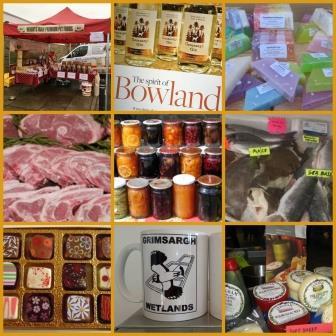 The markets are run by our own Trustees, as a way of raising funds for the Village Hall. All our staff are volunteers.
How we Select our Stalls
As the name suggests, our "Farmers' Market" is primarily about locally produced food. However, we do supplement these stalls with a variety of hand crafted, locally produced crafts and other items of interest. Our aim is to have a balance of approximately two thirds food, one third crafts.
We do try not to have much duplication with our stalls, so if your some of your produce is very similar to one of our regulars, we may ask you to miss out those lines, or instead you will be offered a place on a waiting list. You can see some of our Regular Stalls Here.
We are always looking for new, different and interesting food stalls.
If you are still interested, then please email us witht the ALL of following information:
Your business name
Your name and phone number
What your produce is - the more detail, the better
A link to your website or Facebook page, if you have one (and we strongly recommend you do)
Our email address is: markets@gvca.co.uk.

Fees and Payment Terms
From September 2021, our stalls fees are:
| | |
| --- | --- |
| Inside | |
| Large 6' table | £20.00 |
| 2 Large 6' tables | £35.00 |
| Small 3' table | £12.50 |
| Outside | £15.00 |
We offer a "10 for the price of 9" offer. Pay for 9 stalls and you get 1 free. This is typically done at the start of the year, as there are usually 10 markets each year.
We operate a system of "up front" payments for stalls. Any new stall must pay by BACS before their first market - we will send you the account details with confirmation of your booking.
If a stall holder does not give us 10 days' notice of not attending a market, they will forfeit that month's stall fee. If 10 days' notice is given, the fee paid is carried over to the following market.
We do this because our experience has shown us that we will otherwise end up with empty stalls on the day, which isn't good for anyone - visitors, other stallholders and us.